The 25th Micromechanics Europ (MME) was organized by ITU-MEMS in Istanbul between August 31 and September 3, 2014.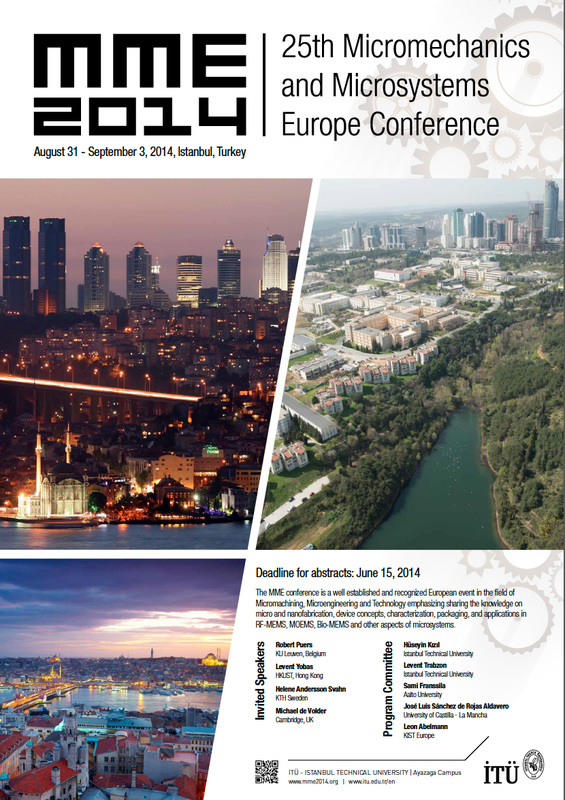 The MME workshop is a well established and recognized European event in the field of Micromachining, Microengineering and Technology for the realization of micro-sensors and -actuators. At the MME workshop scientists and people from industry interested in the field gather annually. The goals are stimulation and improvement of know-how in the field, as well as the establishment of cooperation and friendship between all delegates.
Some of invited speackersin the 25th MME workshop were:
Michael de Volder, Cambridge UK, "Capillary Forces and Carbon Nanotube Assemblies"
Helene Andersson Svahn, KTH Sweden, "Micro- and nano-fluidic devices for biotech and medical applications"
Robert Puers, KU Leuven, Belgium "How to improve the acceptance of scientific papers"
Levent Yobas, HKUST, Hong Kong "Silicon-based microsystems: from cells to molecules"
MME-2014 has covered the areas of materials, processing technology and devices. The organising committee received and published the subjects related to Micromachining, Micromechanics and Microsystems, including:
Fabrication technologies and processes

Materials
- Design and simulation tools

Microcomponent packaging and solutions

Device and process characterization

Sensing and actuation applications

Microfluidic components and systems

System integration of MEMS, NEMS, RF MEMS and MOEMS

Bio MEMS